06.22.16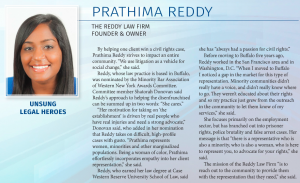 The Daily Record has revealed their 2016 Excellence in Law honorees and we are proud to announce Prathima Reddy has been recognized as an Unsung Legal Hero! This award is an honor bestowed upon individuals in the civil legal services who have diligently assisted those in need, frequently in matters behind the scenes.
"This year's Excellence in Law honorees are dedicated to making a difference by contributing significantly and consistently to the legal profession," said Suzanne Fischer-Huettner, publisher of The Daily Record. "They work tirelessly to uphold high legal standards and improve communities throughout Western New York. The Excellence in Law honorees are active mentors, fostering strong, future generations of professional and community leaders. The Daily Record is pleased to honor them."
The 2016 Excellence in Law Awards ceremony and luncheon was held Thursday, June 2 between 11:30am – 2:00pm at the Hyatt Regency Rochester. In addition to the gala, the recipients were profiled in a special edition magazine accompanying the June 3 issue of The Daily Record. Learn more about Ms. Reddy and other honorees here.
For more information on the venue, ticket purchasing, sponsorships and to see a complete list of honorees, visit www.NYDailyRecord.com.