The Reddy Law Firm is a boutique civil rights firm — advocating for the rights of minorities and other underrepresented individuals in our society. We specialize in employment discrimination, retaliation, sexual harassment, police brutality, false arrest, labor issues, as well as other civil rights and general/business litigation matters. Utilizing a progressive, client-centered approach to the practice of law, The Reddy Law Firm has created an institution of change and progress for individuals and communities. We provide legal services to clients throughout the state of New York including Buffalo, Rochester and New York City as well as California, particularly the Bay Area.
Prathima Reddy, Owner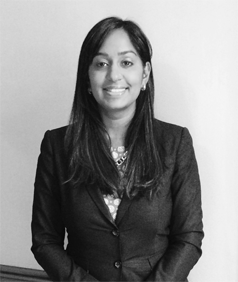 Prathima Reddy concentrates her legal practice in civil rights, with an emphasis on employment discrimination matters. She regularly represents women, minorities and other individuals in litigations against both private and public sector employers involving claims of harassment, discrimination, and wrongful termination, among other matters. She has also successfully litigated claims of false arrest and police brutality on behalf of her clients. Additionally, she also has experience in labor law, union matters and arbitrations as well as entertainment law.
Prior to starting her own law practice, Ms. Reddy worked at litigation firms in New York City. Her passion for civil rights was ignited by her tenure at a San Francisco civil rights law firm where she worked exclusively on a high-profile class action lawsuit against Fed Ex Corp. She also gained experience in evaluating sufficiency of unlawful discrimination claims with her work at the District of Columbia Office of Human Rights.
She is a member of the Minority Bar Association of Western New York, Bar Association of Erie County, and Equity and Diversity Advisory Council of Erie Community College. She regularly provides trainings on EEO laws, diversity and inclusion to both public and private sector employers and their EEO officers. Also as the referral attorney, she partners with National Action Network to promote its modern civil rights agenda and ensure proper representation for citizens of WNY.
In 2016, The Reddy Law Firm expanded to California after she passed the Attorneys' Examination and became licensed to practice in the state of California. While continuing her work in New York, she has widened her focus to include litigating ADA (Americans with Disabilities Act) and Unruh Civil Rights Act cases in California. She also consults with UC Hastings Center for WorkLife Law for the advancement of women and minorities in the workplace, combatting family responsibilities discrimination, pregnancy discrimination and work-life issues that affect men as well as women. She conducts practical, intersectional research that focuses on creating concrete tools that transcend race, class and gender. She also provides trainings to employers, managers and human resource managers on creating best practices for a harassment-free workplace.
Education:
B.A., University of California, Berkeley
J.D., Case Western Reserve School of Law
Admitted to Practice:
New York
U.S. Western District of New York
U.S. Eastern District of New York
U.S. Southern District of New York
Second Circuit Court of Appeals
California
U.S. Northern District of California